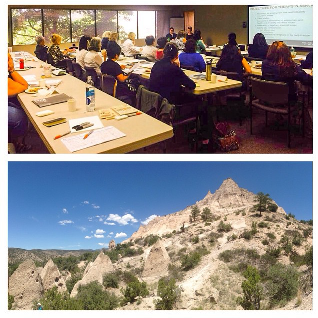 We're excited to share news of the opportunity we had last month to bring the discussion of work and cancer to a new region of the country for Cancer and Careers: the Southwest — more specifically, New Mexico!
We thoroughly enjoyed experiencing the beautiful desert landscape and chili-laden local cuisine. But the greatest privilege was getting to know amazing and inspiring members of the Albuquerque cancer community — both healthcare providers and survivors alike.
On Friday, June 19, we hosted an In-Service for Healthcare Professionals at the United Way of Central New Mexico. It was attended by nearly 30 nurses, social workers and patient navigators — an outstanding turnout! The full-day session was presented by our chief mission officer, Rebecca Nellis, alongside cancer rights attorney and CEO of Triage Cancer, Joanna Morales, Esq. From their combined expertise, the two led the engaged group of attendees through an in-depth exploration of the practical and legal considerations associated with work and cancer, which was clearly well received by all. We were thrilled to hear so many thoughtful questions posed by participants, and we were touched by the level of appreciation expressed by these dedicated workers, who said they felt empowered and better equipped to help the patients and survivors they work with.
On Saturday, we participated in People Living Through Cancer's 28th Survivorship Conference and Celebration. Rebecca and Joanna led two panel discussions as part of the event. The first presentation, "Working Through Treatment," covered topics such as disclosure, online-brand management, legal considerations (e.g., the ADA and FMLA) and managing side effects in the workplace. This was followed by a dynamic, interactive session on "Returning to Work," which focused on essential skills such as networking and creating an effective resume and also gave attendees an opportunity to practice answering mock interview questions, with feedback from Rebecca and Joanna. Both sessions left the Cancer and Careers team invigorated by how open and collaborative our participants were in sharing their own personal stories and experiential expertise.
Across the board, our trip to New Mexico was a tremendous success. Our profound thanks to People Living Through Cancer, the New Mexico Cancer Council and Cancer Services of New Mexico for helping us make this opportunity possible!