As the definitive national authority on work and cancer, Cancer and Careers empowers and educates people with cancer to thrive in the workplace. Our innovative programs for survivors and healthcare professionals provide the vital support, tools, and information they need to navigate the practical and legal challenges that follow a diagnosis. Online, in print and in person, Cancer and Careers helps more than 525,000 individuals each year, across all 50 states.
Information
individuals access expert information, support and resources online, in print and in person annually.
publications were distributed in English & in Spanish in 2016.
Education
of 2017 program participants said they can use what they learned in their day-to-day activities.
of surveyed healthcare pros are initiating conversations with patients about the impact of cancer on work more frequently than they did before attending the 2017 Educational Series.
Support Services
job-hunting survivors have had their resumes reviewed free of charge since 2013.
in travel grants have brought 206 scholarship recipients from 47 states to the National Conference since 2012.
---
Testimonials
I was overwhelmed by the support and information offered [at the National Conference on Work & Cancer]. I cannot thank you enough. I told my husband when I got home, 'Now I don't feel like such a freak.' I know that sounds harsh, but when you are alone dealing with this, people really cannot relate. Every group that I ever tried to attend was so negative and depressing I just couldn't continue. I found this forum to be so uplifting and supportive."
— National Conference Attendee
---
I'm really excited that there is a program addressing the professional needs of cancer patients. The impact on my identity from treatment has been ridiculous. I am an overachieving, self-motivated, efficient and personable attorney. And all of a sudden, I *WAS* that person, and no longer am. And I'm trying to figure out who I am now, and what I can do, and how, and to have an organization acknowledge that this is a real thing — it means a lot."
— Cancer Survivor, Professional Development Micro-Grant Recipient
---
Because of the help you provided, I was able to be better prepared for certain questions [asked during an interview]. The Swivel technique was certainly used. I used the one-page cheat sheet and other resources from the website [to prepare for the interview]. All in all, I felt very confident going in and I feel even more coming out of it. Fingers crossed it will move forward. Thanks so much…for providing all the help that you do."
— Cancer Survivor, Cancerandcareers.org User
---
Without the help of Cancer and Careers, I would not feel comfortable researching another career at this particular time of my life. They allow you to be a survivor and fight for what you want with a lot of resources available that you never would have had access to. I am truly grateful for their support."
— Cancer Survivor, Resume Review Service Client
---
WHO'S TALKING ABOUT US?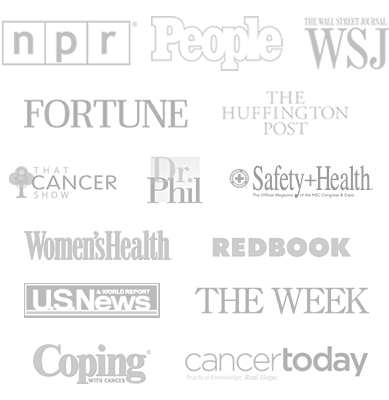 WHO'S USING OUR RESOURCES?
American Cancer Society

Cancer Support Community

Dana-Farber/ Brigham and Women's Cancer Center

Mayo Clinic

MD Anderson Cancer Center

Memorial Sloan-Kettering Cancer Center

UCLA Medical Center
---
The Issue
Nearly 50% of cancer survivors are of working age.
Understand the Issue