Lobster. Cream pie. Tea. Paul Revere. Cancer and Careers.
What do all of these things have in common?
Boston!
This past week Cancer and Careers attended the Oncology Nursing Society's Annual Congress in the beautiful city of Boston. During the four day conference, we met hundreds of oncology nurses and healthcare professionals, and we were incredibly humbled and excited by their enthusiasm for CAC. As nurses passed by our booth, we were met with a whirlwind of phrases like, "What a great thing!", "Work is a huge issue for patients", and "How can I tell my patients more about Cancer and Careers?" And trust me, here at Cancer and Careers we can talk! We can go on for hours about our Educational Series for Healthcare Professionals which offers free CEUs. Or discuss our upcoming first-ever National Conference on Work and Cancer in New York City in June. And don't get us started on our comprehensive website including our career coaching section, online diary, free publications, job search tools, informative articles and resource listings!
Below are some pictures from our ONS booth. 
Want to see more?  Become our fan on Facebook, where we post pictures from the various events we attend, or follow us on Twitter, to see up to the minute feeds of what Cancer and Careers is doing.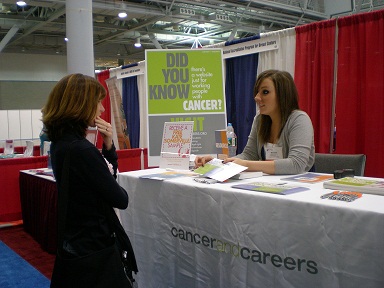 This would be me, describing our Educational Series for Healthcare Professionals and our Ask the Experts Series, both with upcoming May dates!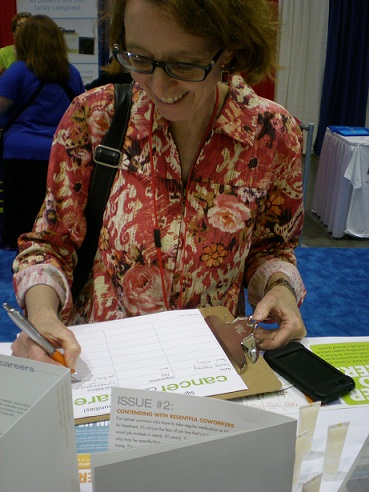 An excited nurse signing up to receive our newsletter and join our Google Group.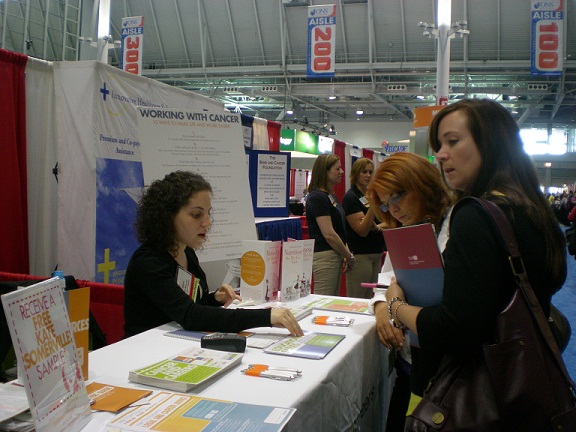 Alice describing all of the amazing publications and resources CAC offers for free!