Despite the hot and humid summer weather in Dallas, we had a great turnout at our Beauty of Caring event last month! The sessions covered a variety of issues that working people with cancer face - from taking time off of work and managing side effects to wellness and makeup tips.
Beauty of Caring is an evening of three workshops: a career roundtable with a professional career coach and CAC staff, a makeup/facial massage session by Shiseido and a nutrition/wellness session by SELF magazine. This was the 9th Beauty of Caring event CAC has hosted, previous cities include Boston, Washington, DC, New York, Chicago, LA, Miami and San Francisco. 
The CAC sessions were lively and informative, led by our career coach Julie Jansen, Executive Director Kate Sweeney and VP of Programs and Strategy Rebecca Nellis. We kicked off with each person sharing a bit about their own journey balancing work and cancer. The experiences were varied - some were currently navigating work and cancer, while others were caregivers supporting their friends. One topic we discussed was reasonable accommodations, going over what qualifies as an accommodation and how to request one from an employer (visit askjan.org for more info). The discussion also touched on how their cancer diagnosis changed many attendees' perspectives on their lives and work, leading them to realize that they weren't doing the kind of work they really want to be doing (check out Cancer as Inspiration for Career Change).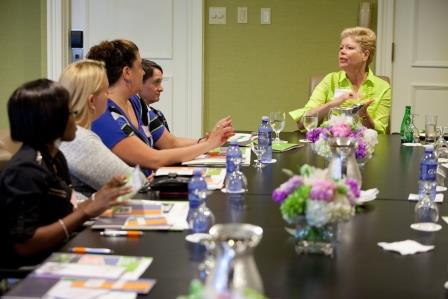 A huge thank you to our amazing partners Shiseido Cosmetics and SELF Magazine who make this wonderful event a possibility! And many thanks to our great community partners in Dallas: Cancer Support Community North Texas, Leukemia and Lymphoma Society, LUNGevity and the National Ovarian Cancer Coalition.
We'll be bringing the event to Seattle this fall, so if you're in the area, please join us! Register here now.