With less than a month to go, the countdown to our 5th annual Midwest Conference on Work & Cancer has begun! On Friday, March 23, 2018, we'll be returning to Chicago to host this free, full-day event, which focuses on the challenges working people face when balancing a cancer diagnosis with employment. We're looking forward to sharing important information and resources with our diverse audience of patients, survivors, healthcare professionals, caregivers and employers. Qualified oncology nurses and social workers who attend are eligible to receive complimentary CEUs. (See our accreditation page for details.)
As always, we'll be covering a range of relevant topics, including disclosure, privacy & online brand, working through treatment, job search and health insurance options. This year, we're thrilled to introduce a new session to the agenda — "Body Confidence, Self-Confidence in the Workplace," presented by our longtime partner Dr. Sage Bolte. Dr. Bolte has presented on this topic as part of our Balancing Work & Cancer Webinar Series and at our National Conference on Work & Cancer. Her expertise, insights and energy will be a terrific addition to the lineup.
There's still time to register for the event — and to help us spread the word! Please note that space is limited, so be sure to sign up soon in order to secure your spot.
Also, this year's Conference wouldn't be possible without the support of our incredible sponsors — Genentech, QVC, Workplace Transitions and Eisai — and the help of our Community Partners. A big thank-you to all of them!
Sponsors of the 2018 Midwest Conference on Work & Cancer
Gold

Silver

Bronze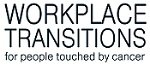 Patron

2018 Midwest Conference Community Partners
Gilda's Club Chicago, Imerman Angels, Leukemia & Lymphoma Society, National Ovarian Cancer Coalition, Stupid Cancer, Triage Cancer