Do you know what recruiters and/or potential employers see when they look at your resume?  Well, it's likely not very much - since on average they only spend six seconds looking at it.  (Crazy isn't it?)  It may feel like pouring time into working on your resume for someone to glance at it for such a short time period is futile, but this couldn't be farther from the truth.  The more clear, concise and focused that your resume is, the more likely they are to look at it for longer (and catch all the important details they want more easily).
Here's what should stand out:
Name
Current title and company
Current position start and end dates
Previous title and company
Previous position start and end dates
Education
All of this info came from this great TheLadders survey, and is well discussed in this Business Insider article. And if you want to know what a recruiter does, check out our recruiter guest blog demystifying the whole process: http://www.cancerandcareers.org/blog/do-you-know-what-a-recruiter-d
Want to truly see where recruiters' eyes fall?  Check out this heat map of recruiters' eye movements: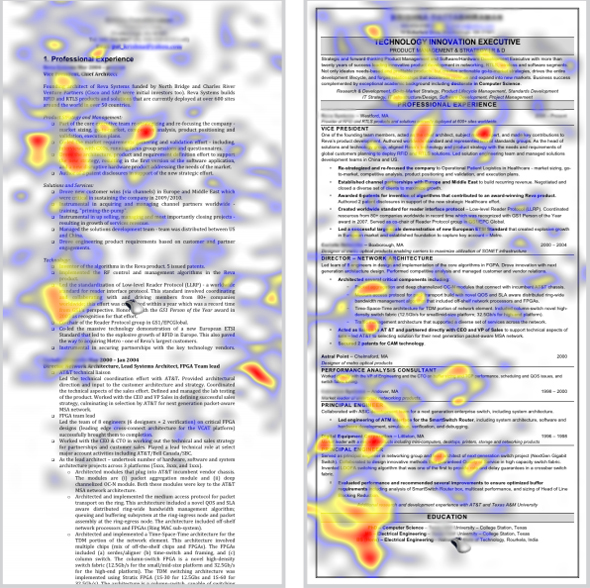 Thanks to it's clear, concise format with more bulleted information, and less long-form text, the resume on the right gets a lot more attention.  Do you know how your resume would fair with a heat map test?  Can you find the important information easily? There is no better day than today to update your resume!
Image courtesy here.