Marty Davis was a general contractor who owned his own construction company when he was diagnosed with a very rare form of cancer. His life was saved by the amputation of his left arm. Due to his illness and the amputation, Marty left the workforce and started receiving Social Security Disability Insurance (SSDI) benefits. He recalls, "I had been making my living with my hands before; and basically I guess I had to reinvent myself." Creating things had always given him a sense of fulfillment, and without that he felt "useless." 
Marty decided the best way to move forward was to adapt to his new condition and continue building. Wanting to get back to work, Marty participated in Social Security's Ticket to Work program. Ticket to Work supports career development for people with disabilities who are ready for employment. By taking part in the program, Marty was able to explore whether full-time employment was right for him, while still receiving SSDI benefits. This trial period allowed him to gain the confidence to find employment and transition from benefits to earning.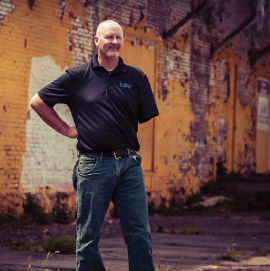 To learn more, watch Marty's story here or visit the Ticket to Work program website.
Consult our Back to Work After Cancer page to learn helpful strategies for returning to work.