Last month we were thrilled to see exactly how much the National Conference on Work & Cancer has grown in just four short years. Cancer and Careers' signature in-person event welcomed more than 250 attendees from 25 states, including 39 scholarship recipients from underserved regions across the country, such as Horton, KS, Dolton, IL and even Honolulu, HI!  
Patients, survivors, healthcare professionals and nonprofit partners came together to experience this truly empowering day filled with networking, resources and sessions addressing the complexities of balancing cancer treatment and recovery with employment. The morning kicked off with a panel offering the doctor's perspective followed by a two-hour session focused on practical and legal issues featuring interactive discussion. This year, new breakout sessions were added to the afternoon program lineup, including "Managing your Finances," "Building Self-Confidence" and "Stress: How to Manage It During and Post Treatment."
The highlight of the day for me was hearing countless attendees remarking on the transformative and informative nature of the conference. People like Donna, cancer survivor and 2014 National Conference scholarship recipient:
"As I embark on my post-treatment 'new normal,' I was lucky enough to attend the 2014 National Conference on Work & Cancer. Not only did I learn pertinent, helpful information, I did so surrounded by the camaraderie of fellow survivors and oncology professionals. There is definitely strength in numbers! Effective takeaways, for me, included overall clarity as to how to move forward in my personal career, including best practices that might help me achieve this more effectively and efficiently. I am very grateful for this opportunity and look forward to being an ambassador for Cancer and Careers in my local community. Many, many thanks for providing me with a scholarship to attend this conference! I feel like the benefits…were many fold and invaluable."
This event was made possible by the support of our nine incredible sponsors and the 33 community partner organizations that serve as CAC ambassadors helping to spread the word about our programming. Thank you to all who attended and supported this year's National Conference! We look forward to seeing you next June!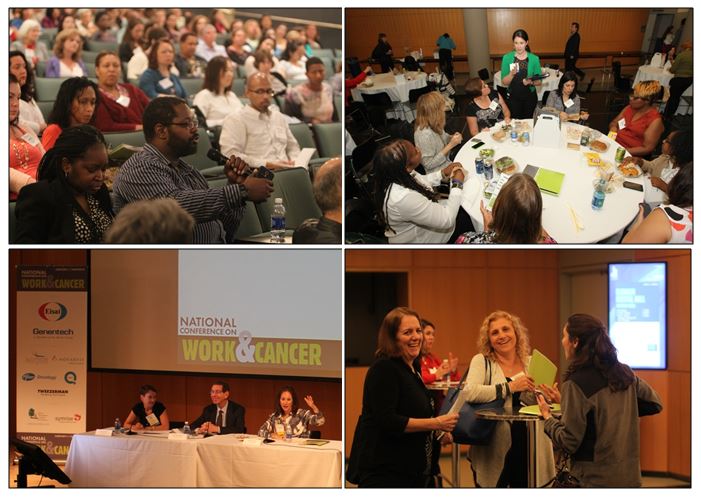 Gold Sponsors 
Eisai
,
Genentech
Silver Sponsors 
Laura Mercier Ovarian Cancer Fund, Novartis Oncology, Pfizer Oncology, QVC, Tweezerman
Bronze Sponsors 
Cancer Treatment Centers of America
,
Symrise
2014 Community Partners:
American Cancer Society  | Be Bright Pink |Be the Match | Camp Kesem | Cancer Support Community  | CancerCare | Colon Cancer Alliance | Cook for Your LIFE | First Descents | FORCE: Facing Our Risk of Cancer Empowered  | Gilda's Club New York City | I Had Cancer | Imerman Angels |The Leukemia & Lymphoma Society | Life With Cancer | LUNGevity | Lymphoma Research Foundation | Memorial Sloan Kettering Cancer Center | National Ovarian Cancer Coalition | Oncofertility Consortium | OncoLink | The SAMFund for Young Adult Survivors of Cancer | SHARE Self-help For Women with Breast or Ovarian Cancer  | Sharsheret  | Stupid Cancer | TalkAboutHealth | Tamika and Friends | Tisch Cancer Institute at The Mount Sinai | Treatment Diaries | Triage Cancer | Ulman Cancer Fund for Young Adults | Uniting Against Lung Cancer | Young Survival Coalition