Are you looking to go beyond the standard resume?  Are you willing to try new, tech-savvy, tactics to really give your work experience that wow factor? Got an up-to-date LinkedIn profile?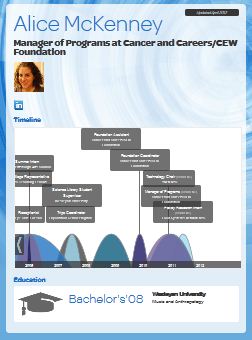 Then it's time to try re.vu.  (And yep, that's the whole url!).  Re.vu takes all of your LinkedIn profile info and pulls it into a neat graph charting your professional experience, and lists out your education.  A simple and easy way for a prospective employer to get a look at the arc of your work experience (literally!).  Just hover over any job and whatever description you have for it on LinkedIn will appear instantly.
I think this is a great option.  However, it is still lacking some items we so often encourage job seekers to include in their LinkedIn profile (including recommendations and volunteer experience - more on all that is here).  But it's still a new product so maybe those are coming! 
Want to see what a profile looks like once it's set up?  Check out mine here: http://re.vu/alicemckenney