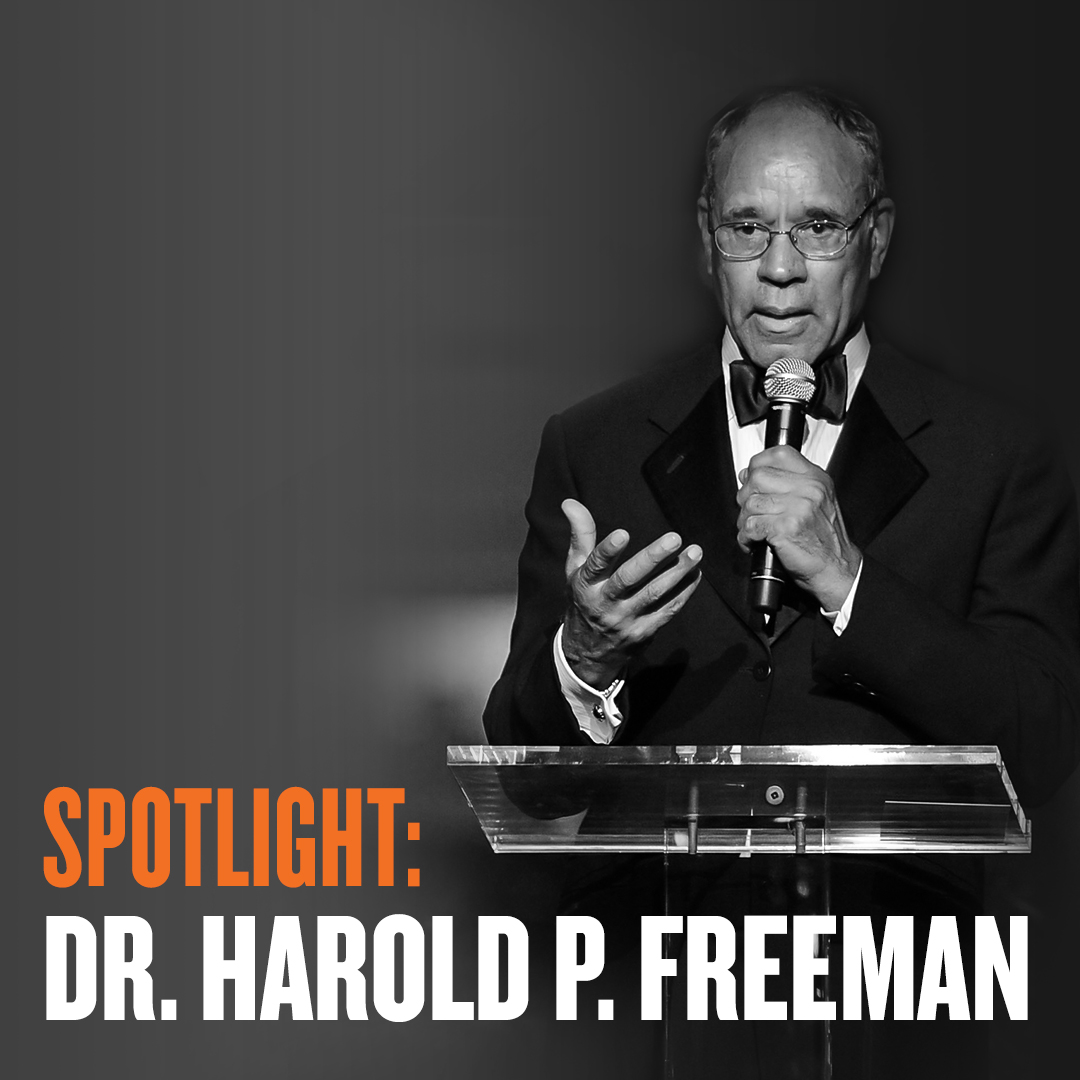 As CAC has been discussing how it would contribute to Black History Month, I immediately thought about one of my heroes, Dr. Harold P. Freeman. I know I am one of his many admirers—and, really, I was kind of late to the party, given how long he has served the cancer community and pushed conversations (and solutions) around how poverty impacts people's health outcomes. I am lucky enough to have heard him speak at conferences and to have interviewed him for a paper I wrote during graduate school. Talking about him recently with the CAC team led me to dig up that interview, and what I discovered was as relevant today (more than 10 years later) as it was then.
Before I offer a few choice insights from that conversation—and trust me hearing from him directly is far more profound than if I just go on and on about all the ways he has inspired me—let me share a little bit about his background. Born in Washington, DC in 1933 to a lawyer father and a schoolteacher mother, Dr. Freeman attended Catholic University and Howard University Medical School. In 1967, following a residency in cancer surgery at Memorial Sloan-Kettering Cancer Center, Dr. Freeman began his long tenure at Harlem Hospital, where he ultimately spent 25 years as the Director of Surgery. With his move to Harlem, Dr. Freeman began to see a disproportionate number of patients with late stage cancers. Leading him to wonder how he could practice the best medicine if he wasn't seeing patients early enough to meaningfully intervene—it also led him to wonder what was causing the delay in seeking medical care. In 1990 Dr. Freeman launched his first patient navigation program focused on getting people in for medical care earlier, he trained members of the community to provide this support. In 2005, 15 years after his first navigation program, Congress amended the Public Health Service Act with the Patient Navigator Outreach and Chronic Disease Prevention Act of 2005, which provided government support for Dr. Freeman's community approach to improving health outcomes. The Harold P. Freeman Patient Navigation Institute was founded in 2007 to formally train navigators.
Rebecca Nellis: How did your heritage and ethnicity influence your path to leadership?
Dr. Harold P. Freemen: I'm African American. I grew up in a segregated city [Washington, D.C.]. So my early life was really affected by that in a city where, for example, I went all the way through high school in an all Black educational setting. I was in Black movie houses, [went] to restaurants, to sport places, I played tennis separately. So that was a great lesson for me to grow up in a segregated city. On the other hand, I don't think I ever felt deprived because my family and the people around me were very supportive. So it seems that paradox - segregated off and separated and with a lot a bias against Black people in Washington. But still comfortable and happy and very supported. I did learn the meaning of injustice through that experience. And that was one of the core things that stayed with me. The point that I understood what injustice was, social injustice, and I think that drove me a great deal later on to be a person who didn't tolerate injustice. And my lack of toleration of injustice got beyond race. I just don't like inequity and unfairness in any form. The other side of that is the support system that I received that made me a kinder and gentler person. That was really coming from my mother, for the most part, my father died [of cancer] when I was 13. My mother was a very, very giving person. [Lastly] my parents were educated. My father became a lawyer at age 40 and he died at age 48 so he wasn't a lawyer very long but he was an educated person. I learned later that my great-great-grandfather was a slave in Raleigh, North Carolina and he bought his freedom in 1838. He stayed in Raleigh to earn enough to buy his wife and six children and then the whole family moved to Washington in 1842. They had another son [Robert] who was born in Washington. He was the only one of the children born free. Robert T. Freeman is prominent because he finished Harvard Dental School in 1869. He was the first black dentist in America. Another connection is that Robert T. Freeman's grandson is a man named Robert Weaver. He became the first African American cabinet member in the US appointed by Lyndon Johnson [to be] the Secretary of Housing and Urban Development in 1960. The heritage was strong, the segregated city worked against me, but the strength of my background worked for me.
RN: And when you decided to become a doctor did you know you wanted to work in oncology?
HF: No. No I did not. In fact in the beginning, I wanted to become a psychiatrist. In medical school they sent us to a place called St Elizabeth's for training, which was a chronic psychiatric hospital and there I saw people who were extremely schizophrenic, and I also discovered that doctor's, particularly at that time, didn't know what to do to help them. So that turned me away from wanting to be a psychiatrist because I didn't want to be in a field for life where I didn't feel I had the answer to help people. And then I shifted to surgery which was suited more to who I turned out to be, which was a person who really likes to know the answer if there is an answer and likes to act on solving a problem and getting results. Surgery suited me fine for that reason.
RN: What did you notice about your patients at Harlem Hospital?
HF: I came to Harlem in 1967, 43 years ago, to work at the Harlem Hospital Center as a highly trained surgeon. I was faced with a population of people who were poor and Black and they were coming in with very, very late cancer. And so I was driven to try to find out why they were coming in so late and I began to look at who these people were. They were all Black, they were all poor and I began to look at the meaning of Black and the meaning of poor. I spent a 40-year career trying to understand the interrelationships between race and poverty and disease. I became well known because of that.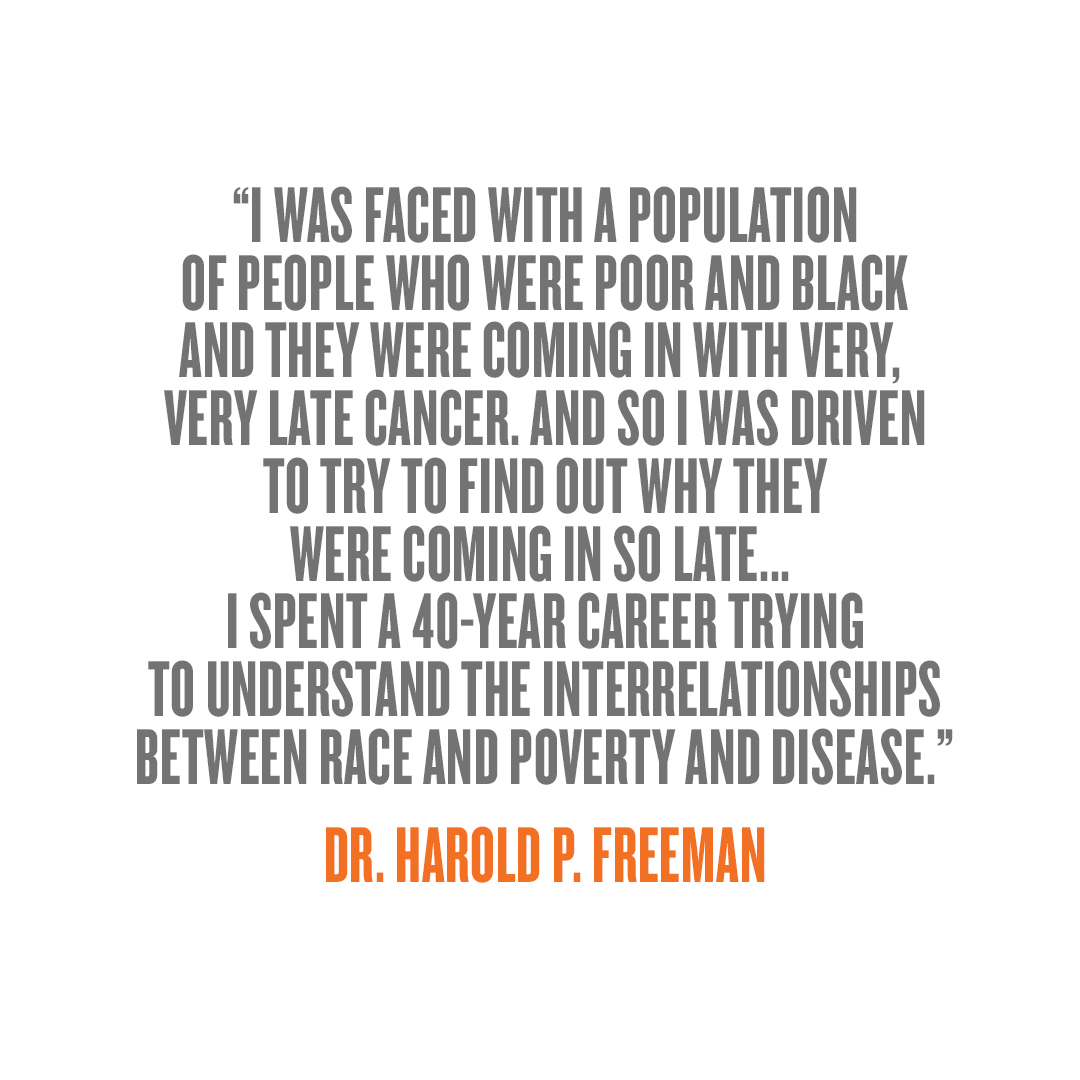 RN: What advice do you have for future leaders?
HF: The higher your level of understanding and knowledge, the greater the chance that something is going to come along that would be good for you. In other words, you can only take advantage of an opportunity if you're qualified for what is being offered. [To] put it into sports you know if you're going to try out for a basketball team and you can't play basketball, you're not going to be on the team. You know, if you try out for a basketball team and you turn out to be Michael Jordan then you're going to be on that team. So Michael Jordan had to bring the stuff with him to take advantage of whatever opportunities came by him. What I'm saying is the higher your level of knowledge and preparation the more you're able to take advantage of the opportunities that will present themselves but if you're not ready for them you will not get them. Some people call it luck. I say that maybe there is not as much luck as people figure there is, there is a lot of being ready to do things. At certain points in my life I was ready for opportunities that occurred. I was ready to grasp them. And I think my progress wound up being what you're calling a leader. [It] was related to being ready for opportunities that occurred.
To learn more about Dr. Freeman's life and work, check out: