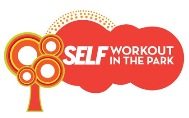 We could not have dreamed of a better day for SELF Workout in the Park. Sunshine, warm weather, and the slightest of rain showers made the day a refreshing break from the unseasonably cool weather as of late. Thousands of empowered women gathered in Central Park to dance, stretch, and exercise with proceeds benefiting two fabulous causes (ours being one of them!).
Missed the event? There's always next year for New York - I know I'm already looking forward to it! If you're near Chicago you can still sign up here for the Workout in the Park this Saturday. We'll be there!
Thank you SELF for yet another awesome event and thank you everyone who participated and made this such a fantastic program!