I appreciate the opportunity to tell my story, which continues to evolve on a daily basis. By means of introduction, I am 43 and was diagnosed with aggressive prostate cancer when I was 41. I work for a large Internet company (5,000+ employees) in Advertising Sales, dealing with Madison Ave. and Fortune 500 companies. There are many younger employees in my office and I am probably a little older than the average age there. This is an always "on" job whether I am in front of clients or internal team members. To add to that, three months prior to my diagnosis, my wife of 10 years asked for a divorce and I have two young sons. I have no doubt that this additional upheaval influenced the decisions I made in the workplace.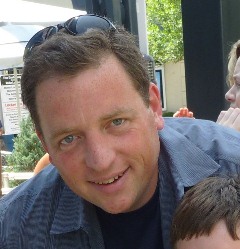 I learned early from my doctors that my cancer was advanced and that this would most likely be a long battle so I knew that I had to share the news. My management assured me that they would do everything they could for me and I believed them. I work for an incredible company. I then gathered my team, which at the time consisted of 5 younger women (20's and low 30's) and I have to say they listened with grace and provided wonderful support.
My list of colleagues at the time was long, probably 100-200 depending on the week. I was scheduled to have surgery in a few weeks (goodbye prostate) so I also started telling friends and those I worked closely with. I remember having this concern that people would say "where is Dave?" and I wanted to control the message. I also remember telling people "I don't have a problem if you tell anyone". I think I was hoping the word would spread without me having to tell everyone myself. I wanted it out there because a. that is who I am, and b. I didn't want to see someone in the halls wondering if they knew what I was going through.
I went back to work too quickly after surgery (2 weeks) because I wanted to prove that this wasn't going to derail what had been a very rewarding and successful career. This was my first of many humbling cancer experiences. In the following weeks I worked hard but not at the capacity I was accustomed to.
Soon after, I was informed that I was losing my team of direct reports. I was able to keep my title but I was lowered one layer on the org chart. I remember thinking – first the wife, then the health and now the job….2009 was not a good year. The manager responsible for making this decision said it had nothing to do with my health situation and he was making this call for the good of the overall business. I never really felt the strong urge to fight this or get legal advice but it was demoralizing.
I had a lot of outside opinions coming at me, ranging from fight this to it's a blessing in disguise. Ultimately I made the decision not to challenge it but rather focus on my health and my boys. Looking back this was the start of some radical changes happening to me as a person and a worker.
David is a 43-year-old prostate cancer survivor living in the great state of NJ. He blogs about his experience at www.davidgisme.com and can be found on Twitter @saintinthecity.