Getting a cancer diagnosis can be a frightening experience, posing a threat not just to your physical health but to your financial well-being. If your financial resources are stretched to the limit, our brand new Survival Guide to Cancer on a Shoestring offers information on how to control your medical costs, find financial assistance for medical care, get free legal advice, and more.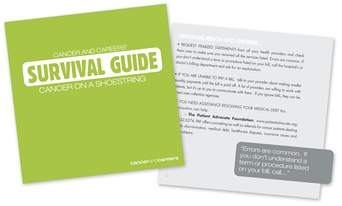 For example do you  know what to do if you don't have health insurance? (Even if you don't qualify for Medicare or Medicaid, there is likely a place to get free or low cost health screenings in your community).  Or how about resources to help pay for treatments, medications or transportation and lodging (we have 11 great national resources listed to help with this - something everyone with cancer deals with at one point or another!).  
So order or download your copy of our Survival Guide to Cancer on a Shoestring today - you won't regret it!
Want more advice on dealing with cancer on a low income?  Check out our financial articles here or any of the financial listings in our resource database here.