A couple of weeks ago I had the honor of attending Traditional Home Magazine's Classic Women Awards in New York City.  Myself, Kate Sweeney (CAC's Executive Director) and a table full of CAC champions and Board members all spent a few privileged hours hearing extraordinary stories of women changing the world--including our very own Carlotta Jacobson (President of CEW, Inc. and founder of CAC).  Carlotta received the final award of the Luncheon, which was a new one given by the publisher and editor-in-chief of Traditional Home and sponsored by Elizabeth Arden, for the vision and passion that drove her to start CAC more than a decade ago.  Carlotta was honored for her ability to identify a problem no one had committed to or solved, engage funders and key influencers and find the right people to nurture it from concept into the robust national organization that it is today.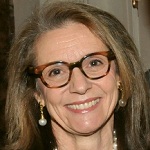 I know I speak for the whole CAC team when I say we couldn't be prouder of the work we do and the woman who got it all started.
To hear from Carlotta herself on why she started Cancer and Careers, click here.