Money matters. It matters when you are healthy, and it matters 10-fold when you are sick. The bills and costs stack up fast, and they can affect the treatment choices you and your healthcare team make. Have you factored in transportation costs to and from doctors' appointments? Have you considered hiring a babysitter or caregiver for a family member while you need to pick up prescriptions? Have you rethought your family budget for all of these out-of-pocket costs?
It is important for you to talk openly with your health care team soon after diagnosis about the costs of your care. In doing so, you can gain a powerful sense of control in unfamiliar territory. By being your own advocate, you and your medical team can design a treatment program that suites your health needs and your budget. Fostering an open conversation will allow you to ask for recommendations and reviews of programs you may unknowingly have access to. This relationship between you and your healthcare providers may provide one of your most valuable assets (pun intended.)
The American Society of Clinical Oncology (ASCO) is the world's leading professional organization representing doctors who care for people with cancer. ASCO is working with oncologists across the country to increase doctor-patient communication on the crucial topic of financial safety. They have found that when patients have been proactive and planned for the many costs of cancer treatment with their healthcare teams, the patients were much more likely to complete their treatment schedule and focus of recovery.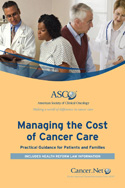 With this in mind ASCO has published The Managing the Costs of Cancer Care online guide. It is an incredible resource addressing the financial costs of treatment,the obvious and the obscure, to empower all cancer survivors.
If you are a person with cancer, understanding what costs to expect before starting treatment can help you manage the financial impact of cancer in the most effective way possible. ASCO created this guide to help you talk with your health care team about coping with the costs of cancer care. The Managing the Costs of Cancer Care guide includes tools and resources to assist you in financial planning before, during, and after treatment. It is available, free of charge, in both English and Spanish and can be downloaded or printed here: http://www.cancer.net/patient/All+About+Cancer/Managing+the+Cost+of+Cancer+Care
If you have further questions, please also check out the Cancer and Careers Financial website page: http://www.cancerandcareers.org/en/at-work/Legal-and-Financial