We could tell you how great last month's 5th annual National Conference on Work & Cancer was through the numbers — like how we welcomed 289 people from 24 states (a 12% increase over 2014 and a 100% increase over our inaugural conference!). Or that we hosted 35 scholarship recipients from underserved regions across the country, including Columbia, MO, Baton Rouge, LA, and even Kailua, HI.
But these stats don't capture the impact — or the meaning — that this incredible day of learning and connecting generated. We think the attendees themselves tell it best:
"This was my first time attending since my diagnosis. I was overwhelmed by the support and information offered [and] I cannot thank you enough. I told my husband when I got home — 'now I don't feel like such a freak.' I know that sounds harsh, but when you are alone dealing with this, people really cannot relate… I found this forum to be so uplifting and supportive." —Survivor Attendee
 "This Conference is the best I've ever attended.… [It] has provided me with additional tools to effectively do my work and for that I personally thank all who presented, volunteered and came together to offer this opportunity to learn and grow." —Healthcare Professional Attendee
"I loved seeing the benefit of the work we do and how appreciative all attendees were of this event and why it is important to them. There was so much enthusiasm and energy in the room that was exciting to experience firsthand."  —Cancer and Careers Staff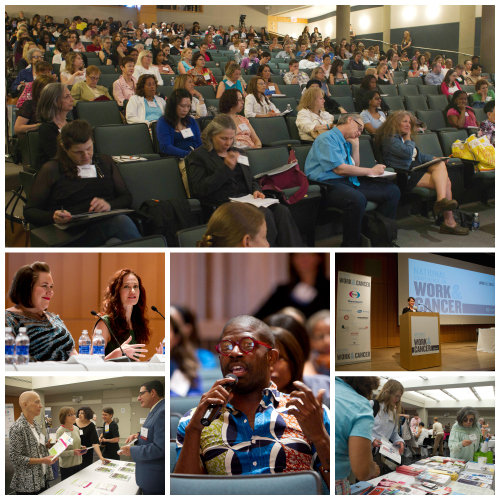 Patients, survivors, healthcare professionals, caregivers and nonprofit partners came together to experience this truly empowering day. The event featured a strong lineup of experts (some of whom are survivors themselves) discussing everything from navigating legal & financial issues and managing side effects on the job, to discussing options for flexible work and how to make them work for you.
Cancer and Careers' National Conference was made possible thanks to the generous support of our nine incredible sponsors and the 32 Community Partner organizations who served as CAC ambassadors, helping to spread the word about our programming. THANK YOU! I'd also like to thank all who attended and supported this year's National Conference! We look forward to seeing you next June in NYC!
Gold Sponsors
Eisai
,
Genentech
Silver Sponsors 
Novartis
,
Pfizer Oncology
,
QVC
,
Tweezerman
Bronze Sponsors 
Cancer Treatment Centers of America
,
Symrise
,
Takeda Oncology
Patron Sponsor 
Morris Retirement Advisors
Community Partners
American Cancer Society, Be The Match, Bright Pink, Cancer for College, Cancer Support Community, CancerCare, Cervivor, Colon Cancer Alliance, First Descents, Gilda's Club New York City, Hope For Young Adults With Cancer, IHadCancer.com, Imerman Angels, The Leukemia & Lymphoma Society, Life with Cancer, LUNGevity, Lymphoma Research Foundation, Memorial Sloan Kettering Cancer Center, The National CML Society, National Cancer Legal Services Network, National Ovarian Cancer Coalition, OncoLink, Patient Access Network (PAN) Foundation, The SAMFund for Young Adult Survivors of Cancer,Sharsheret, Stupid Cancer, TalkAboutHealth, The Tisch Cancer Institute at The Mount Sinai Health System, Treatment Diaries, Triage Cancer, The Ulman Cancer Fund For Young Adults,Young Survival Coalition