On Friday, March 26th, 240 people joined us online for our 8th annual Midwest Conference on Work & Cancer! While we had attendees from 34 states, almost 80% were from Midwest states, allowing us to successfully maintain the spirit of the regional event for that audience. Between the content, interactive features and platforms, speakers and an incredibly attentive audience, it was truly a special day.
With three virtual conferences under our belt (2020 Midwest, National and West Coast), we were eager to explore ways to make our first conference of 2021 a little different. Unsurprisingly, we miss our in-person events and giving our community the opportunities to meet, mingle and share stories. While there is no exact replacement for that experience, the virtual space is expanding and offering new, exciting platforms for attendees to engage with each other. So for this conference we decided to offer TWO new interactive platforms—a fun, community-building event on Icebreaker and a facilitated Networking Workshop on Airmeet! Both allowed attendees to see and speak with each other, which created a deeper sense of connection and community, an element we were striving towards.
One thing that remained the same was that we covered important topics such as disclosure, working through treatment and returning to work/job search on Zoom. These often serve as core content since they are so relevant to those navigating employment after cancer. In the chat we heard a wide range of experiences when it came to disclosure. One attendee said she received nothing but positive responses after sharing and another attendee wrote about her termination from work. We always say that disclosure is a very personal decision and requires weighing a lot of factors—and that the level of disclosure falls on a spectrum. We shared links to the following resources with attendees to provide further guidance:
For those that are trying to figure out ways to continue working during treatment and/or ask for reasonable accommodations, we directed them towards our Manager's Kit and JAN's Searchable Online Accommodation Resource (SOAR) system, which is designed to help people explore several accommodations options. For job seekers, our Job Search Toolkit and the Looking for Work section of our website are great resources. We also encourage(d) people to register and join us online again for our upcoming Balancing Work and Cancer Job Search Webinars (Resumes 101, Building and Effective LinkedIn Profile, Networking, Enhancing Your Skills and Career Change).
We're hopeful that we'll be able to see everyone in Chicago in the spring of 2022 for the 9th annual Midwest Conference! In the meantime, we look forward to continuing to connect virtually.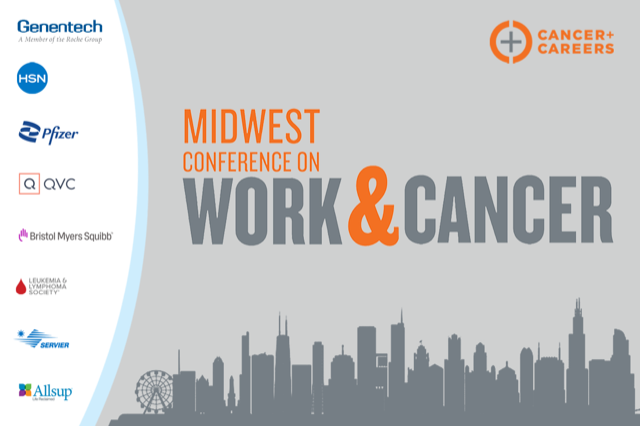 This event would not have been possible without the support of our incredible sponsors and our nine community partners who helped spread the word to their communities.
Gold

Silver
Bronze
Patron

Community Partners
Gilda's Club Chicago, Imerman Angels, Leukemia & Lymphoma Society, National LGBT Cancer Network, National Ovarian Cancer Coalition, Stupid Cancer, Triage Cancer, True North Treks, Wellness House for Living with Cancer