Our 9th annual National Conference on Work & Cancer is now officially in the books, and we are proud that attendees left empowered enough to share feedback such as "for the first time in my life, I think it is possible for ME to be the BOSS over cancer! Thank you for filling my hope tank with truth."
This year's numbers were record breaking, as more than 395 engaged patients, survivors, healthcare/HR professionals and nonprofit community members were in attendance from 27 states and four countries outside the U.S.!
Other news from our 2019 signature event included two brand-new sessions: "Setting Boundaries," presented by licensed social worker Ali Schaffer; and "Now What? Processing Today & Taking Action," a panel discussion presented by CAC's Senior Director of Programs, Rachel Becker, Ali Schaffer, Julie Larson, and professional career coach Kathy Flora.
In addition, this year — for the very first time — real-time captioning was provided during each presentation, for attendees who were deaf, hard-of-hearing or may have otherwise benefited from the service.
All in, it was an exciting day filled with expert speakers delivering vital information for anyone facing the challenges of having to balance a diagnosis and employment, as well as for those who care for them. Session topics included everything from disclosure & privacy, career change and job-hunting, to health insurance options and managing long-term stress.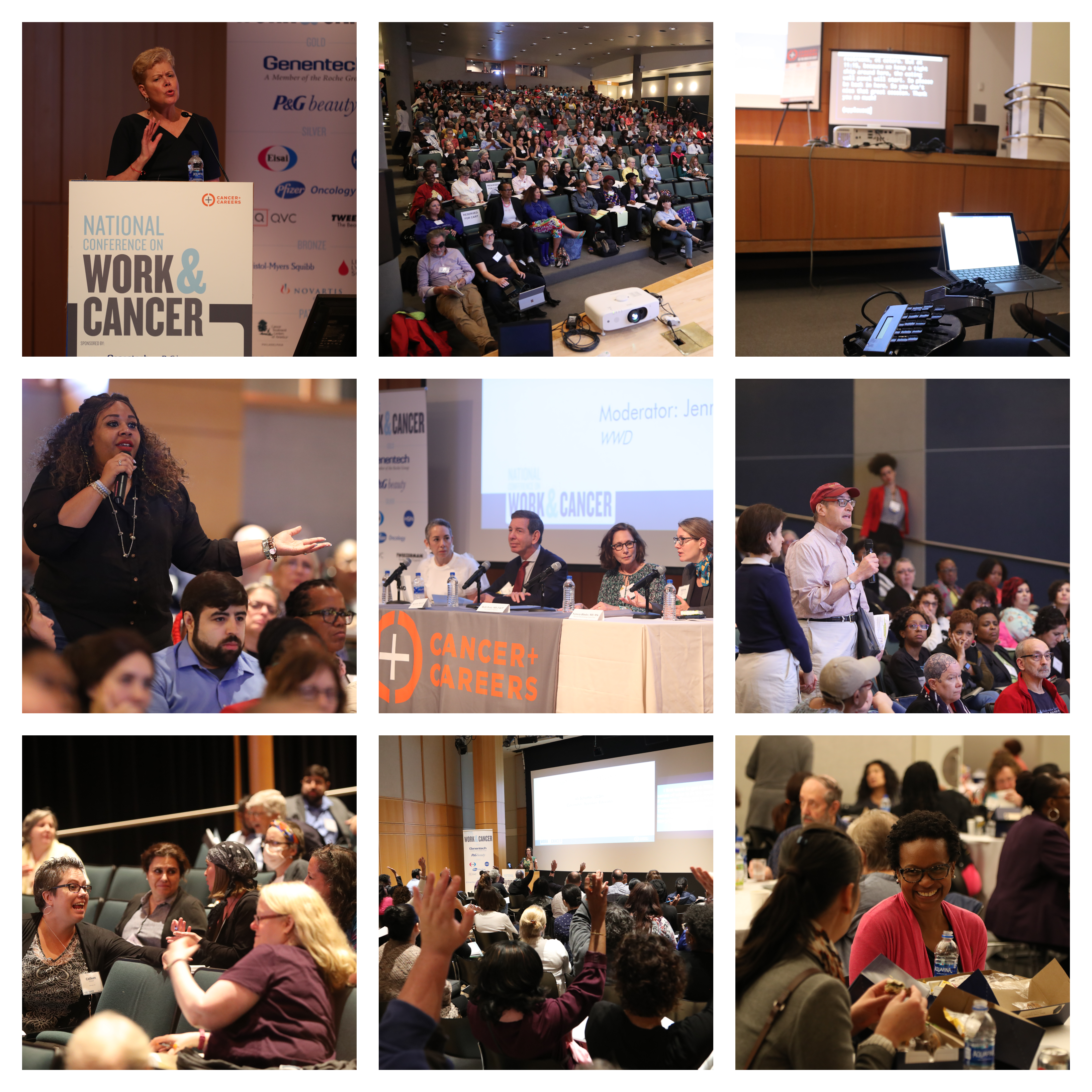 If you have questions about this year's event or would like to learn more about the topics presented, please email us at cancerandcareers@cew.org.
As always, we're incredibly grateful to our National Conference Sponsors for making this day possible:
NATIONAL CONFERENCE SPONSORS
Gold 
Silver

Bronze
Patron

For additional information on this year's sponsors, click here.
---
And a big thank-you as well to our Community Partners, who helped us spread the word.
2019 Community Partners
Adelphi NY Statewide Breast Cancer Hotline & Support Program, American Cancer Society, Be The Match, CancerCare, Cancer Support Community, Cervivor, Colorectal Cancer Alliance, Family Reach, Gilda's Club New York City, Hope for Young Adults With Cancer, IHadCancer.com, Imerman Angels, Lacuna Loft, Life with Cancer, LUNGevity, Lymphoma Research Foundation, Memorial Sloan Kettering Cancer Center, Mommy & Me Cancer Foundation, National Ovarian Cancer Coalition,  New York Legal Assistance Group, The Oncofertility Consortium, OncoLink, Ralph Lauren Center for Cancer Care, Ronald McDonald House New York, The Samfund, SHARE, Sharsheret, Stupid Cancer, Tell Every Amazing Lady® About Ovarian Cancer, Testicular Cancer Foundation, Triage Cancer, True North Treks, Weill Cornell Medicine, Young Survival Coalition