Healthcare professionals are uniquely positioned to help their patients navigate cancer and work. You are the most visible — and, given proper resources, the best equipped — source to provide the essential information patients need to continue working during and/or after treatment.
The goal of this manual, For Healthcare Professionals: A Guide to Helping Patients Manage Cancer & Work, is to give you the direction and tools you need to answer questions, is to provide resources for referrals and support your patients who work. 
Click here to download the manual For Healthcare Professionals: A Guide to Help Patients Manage Work & Cancer.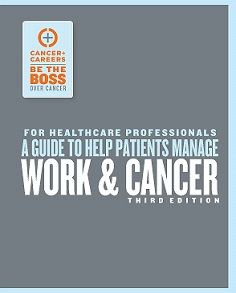 Updated 2022