In March of 2018, Cancer and Careers began researching the employment-related issues faced by European cancer survivors. We conducted qualitative interviews with organizations such as the European Cancer Patient Coalition, European Oncology Nursing Society, Europa Donna, Marie Keating Foundation and Union for International Cancer Control and fielded a comprehensive survey to survivors living in EU countries. In May of 2019, we finalized a report on our findings.
The result of our research is a toolkit we created based on the needs we identified and the 20+ years that Cancer and Careers has been addressing these issues in the U.S.
If you live in Europe, have been diagnosed with cancer and are considering how work fits in, this toolkit was developed for you. Whether you have completed or are still undergoing treatment, this guide is designed as an interactive workbook to help you think through the various realities, questions and choices that are part of the return-to-work process, so that you can create a plan that is best suited for your specific needs.
Below are links to PDF versions of the toolkit that can be downloaded for free. The toolkit is reviewed and updated annually as needed.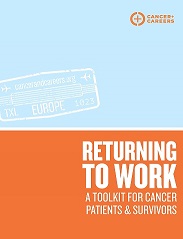 Single-page format

Spread format
The Toolkit was made possible in part through a grant from Pfizer.
If you would like to know more about the research or have questions about the toolkit, please contact Rachel Becker, LMSW, Deputy Director, Cancer and Careers, at rbecker@cew.org.