Our online survey, conducted between September 24th and October 7th, 2019 by Wakefield Research, was designed to determine if workers feel prepared and empowered to support their colleagues with a serious medical condition and if they believe management is providing the right resources and guidance.
Survey findings overall demonstrated a need to better equip co-workers and management to support those living with serious and/or chronic medical conditions. Here are a few key highlights:
Workers believe management is not equipped to support employees with serious and/or chronic conditions – 59% are not confident that management knows how to support these employees. This number is slightly higher (60%) among those who have worked with someone diagnosed with cancer, and lower (53%) for those who had not.
Almost half of respondents (45%) believe management could have provided more workplace accommodations such as flexible schedules, special equipment or technology.
Additionally, many respondents think management could have done more to be supportive:
37% believe they could have created and fostered a more supportive work environment
35% believe they could have had greater consideration of their coworker's privacy preferences
33% believe they could have developed better company policies to support them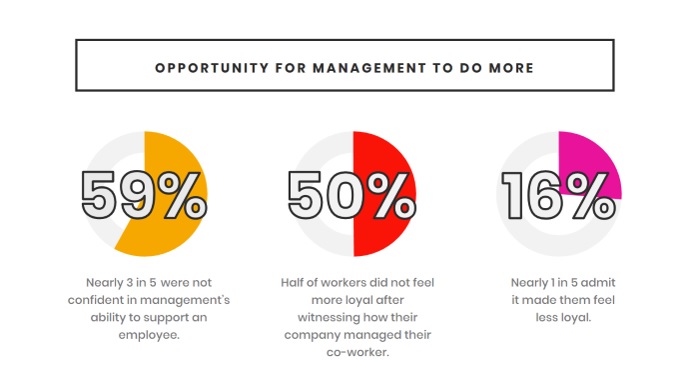 For more details on survey results and methodology, click here to view our full press release.