Margot Larson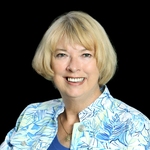 Margot Larson is a Career and Life Transition Coach, helping people face challenges and changes in their life and careers. She has done due diligence in facing her own illness, Stage 4 inoperable NSC lung cancer.
Margot has demonstrated first-hand the amazing impact of HOPE, emotional strength and the power of positive thinking and prayer. Her cancer is recurrent and metastasized. She has confronted chemo treatments, radiation, hip replacement, gamma knife, pleural drainage, aggressive infection, hospitalizations, brain surgery and more. But like the "energizer bunny" she keeps on ticking with a flair that amazes her friends and colleagues.
She speaks of "Living with cancer" rather than dying of cancer. "Death is not in my vocabulary.
Cancer may attack my body but it will not kill my spirit."
At 64, Margot is energized by sharing her beliefs, her love of life and hope for the future.
She takes on the occasional consulting assignment, loves to write, volunteers in the cancer community, coaches and supports others in need.
In 2001, Margot authored Jump Start Your Life, about choosing your own lifestyle before someone chooses it for you.