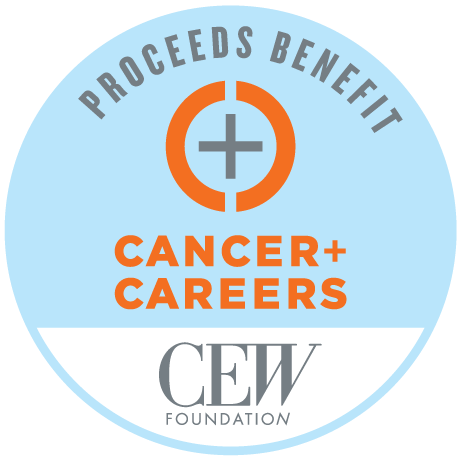 These generous companies are helping ensure that Cancer and Careers can continue to empower and educate employees with cancer to thrive in their workplace. We are truly grateful for their support.
Cancer and Careers' 2015 Partners
Once again, Allure has selected Cancer and Careers as a charity beneficiary of their August Allure Beauty Box initiative. www.allure.com             

Select "Cosmetic Executive Women Foundation" as your charity and 5% of all of your purchases going forward will be donated to Cancer and Careers.  www.BeautyKind.us

EAU De Luxe will donate a portion of proceeds to Cancer and Careers from the net sale of products sold on  www.eaudeluxe.com             

Flexjobs will continue to offer their discount on membership fees for Cancer and Careers and CEW constituents. Use code CANCER when registering to receive 50% off. www.FlexJobs.com

Laura Geller Beauty continues its commitment to donate 50 cents of every i-Care eyeliner pencil and 75 cents of every i–Care eyeliner kit featuring this long-wearing, waterproof eyeliner that is safe for contact lenses wearers and sensitive eyes. www.LauraGeller.com

Meaningful Beauty is recognizing inspirational women who live meaningful lives. Every time you share a story from www.beautiesgiveback.com, Meaningful Beauty will donate $1 to Cancer and Careers.

Philosophy will donate 10% from the sale of each giving grace duo: 4oz edt and 8oz whipped body creme sold by QVC to Cancer and Careers. www.philosophy.com

The third annual Beauty with Benefits promotion, hosted by QVC and CEW, will be held on April 15th. Click Here for more information.
Cancer and Careers' 2014 Partners
| | | |
| --- | --- | --- |
| Once again, Allure has selected Cancer and Careers as a charity beneficiary of their August Allure Beauty Box initiative. www.allure.com              | Arcona will donate 25% from the sale of "Magic Pink Ice" sold during the month of October to Cancer and Careers. www.arcona.com              | Select "Cosmetic Executive Women Foundation" as your charity and 5% of all of your purchases going forward will be donated to Cancer and Careers.  www.BeautyKind.us |
| DECLÉOR will donate 10% of net proceeds of sales of the Sensorial Travel Collection sold during the month of October to Cancer and Careers. www.decleorusa.com | EAU De Luxe will donate a portion of proceeds to Cancer and Careers from the net sale of products sold on  www.eaudeluxe.com              | Flexjobs will continue to offer their discount on membership fees for Cancer and Careers and CEW constituents. Use code CANCER when registering to receive 50% off. www.FlexJobs.com |
| JUARA SKINCARE will donate 10% of sales from our own online boutique, www.juaraskincare.com to Cancer and Careers during the month of October.             | Laura Geller Beauty continues its commitment to donate 50 cents of every i-Care eyeliner pencil and 75 cents of every i–Care eyeliner kit featuring this long-wearing, waterproof eyeliner that is safe for contact lenses wearers and sensitive eyes. www.LauraGeller.com | Philosophy will donate 10% from the sale of each giving grace duo: 4oz edt and 8oz whipped body creme sold by QVC to Cancer and Careers. www.philosophy.com |
| The third annual Beauty with Benefits promotion, hosted by QVC and CEW, will be held on April 15th. Click Here for more information. | Shiseido will donate $5 to Cancer and Careers for every unit of Shiseido Makeup Lacquer Rouge in "Dollface" sold online and in-store from August - November. www.shiseido.com | ThirdLove will donate 20% of the proceeds from their Breast Cancer Awareness Month Collection throughout the month of October to Cancer and Careers. www.thirdlove.com              |
Become a Partner
Interested in partnering?  Benefit from unique visibility opportunities while supporting a vital cause.  Contact Lindsay Mitcher for more information - lmitcher@cew.org